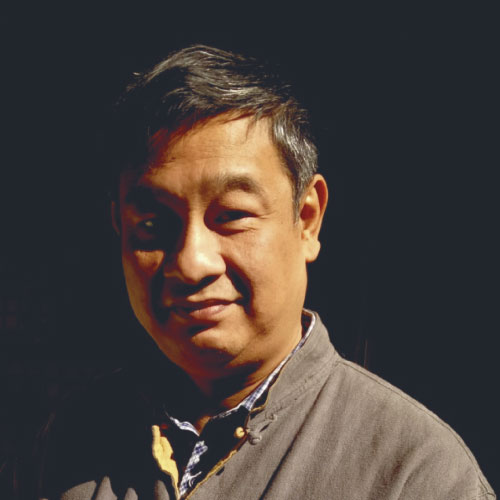 Member of China Calligraphers Association, Member of the Presidium of Guangdong Province Calligrapher Association, Honorable Chairman of Guangdong Province Calligraphy Critics Association, President of Foshan City Calligraphers Association.
Foshan, Guangdong
Wang Zhimin, also known as Jie Shan.
At an early age developed a love of painting. Studied drawing, watercolor, Chinese painting. Initially took up calligraphy as a way of improving his skills in Chinese painting, but later it became his main art form of choice. Preferred calligraphy styles: Bronze script, Clerical script, Xingshu script. Preferred seal carving styles: styles of Warring State Period, Qin and Han Dynasty. Mostly paints landscape paintings, with occasional figure paintings and paintings of flowers and birds.
Member of Chinese Poetry Society , Council of China Western Painting Academy,Visiting Professor of Literature Institute of Foshan University and Open University of Guangdong, Visiting Scholar at Lingnan Culture Research Centre of South China Normal University. In 1992 was named Outstanding Young Citizen of Fushan City. In 2002 received a title of China Calligraphers Association member "Excellent in Both Performing Skills and Moral Integrity". His works received the Lu Xun Literary Prize, the highest literature award of Guangdong Government, and Silver Award of Nanya Award ,the highest calligraphy award of Guangdong, the First Prize of Guangdong Province Couplets Calligraphy Exhibition, the First Prize of Guangdong Seal Carving Exhibition, the Second Prize of Guangdong Calligraphy and Seal Carving Exhibition-98. Author of "On the Bronze script Calligraphy", "Famous Calligraphers of Guangdong Series – Selected Works of Wang Zhimin", "Wang Zhimin Calligraphy Catalog", "Wang Zhimin Calligraphy Selected Works" "Selected Seal Carvings by Wang Zhimin", "Shu Jielou Catalog of Carvings" "Paintings of Jie Shan" and other books.
His biography is included in Biographical dictionary of Historical Calligraphers of China, "Who's Who in China Modern Art World", "China Print Yearbook" etc.
His monograph "On the Bronze script Calligraphy" was included in 2011 Annual Report on Chinese Calligraphy" by Chinese National Academy of Arts and Chinese Calligraphy and Painting Research Institute.