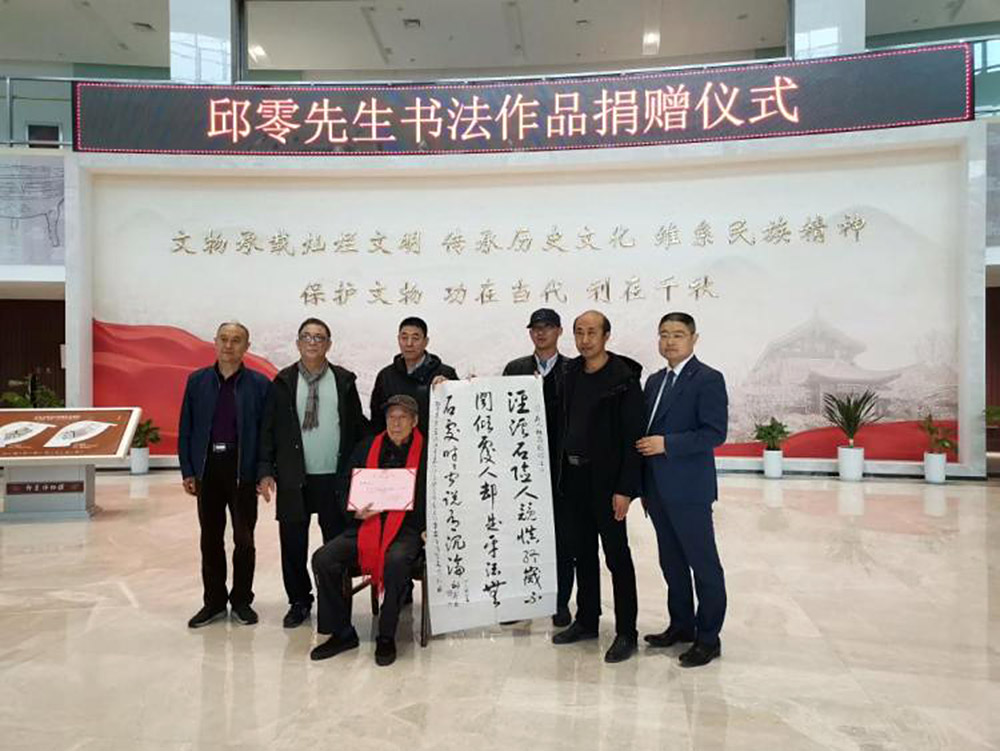 April 22 was a cold and rainy day, but a heart-warming scene took place in the Jimo District Museum. Mr.Qiu Ling, a famous contemporary calligrapher in his 80s, drove from Qingdao to Jimo to donate his calligraphy work, Jingxi, to the Jimo District Museum. Qiu Ling is a former member of the council of the second session of the Chinese Calligraphers Association, Vice-President of the Chinese Engraving Association, Executive Director of the Chinese Paper-Cutting Society, member of the Chinese Photographers Association, Executive Vice-Chairman and Secretary-General of Xinjiang Calligraphers Association. He is currently a consultant of the Xinjiang Calligraphers Association.
This work is of great relevance and aims to inspire more people to be vigilant in peacetime.
On April 22, when the all-media reporter of Bandao met Mr. Qiu Ling in the Jimo District Museum, the calligrapher was wearing a brown cap, a red scarf, and a black Tang suit with a pair of comfortable cloth shoes. Such a simple dress made him appear especially friendly. He was sitting in a chair reading a book entitled Jimo Intangible Cultural Heritage Collection, very focused and engaged.
At 10:00 AM, the donation ceremony started on the first floor of the Jimo District Museum. "Jingxi River has dangerous rocks, so people are cautious, we haven't heard of people capsized there for the whole year. But in peaceful waters where there are no rocks, we often hear news of drowning," the lines from a thought-provoking poem of a Tang poet Du Xunhe grab viewers' attention. The artist's calligraphy style is graceful and free, fresh and powerful as a spring breeze, people can't help but gasp in admiration.
Referring to the work, Mr. Qiu Ling said, "The philosophy contained in this poem reminds us that in obviously dangerous situations, people instinctively become more careful and less prone to accidents, but in peaceful times with no apparent risks, people can be negligent and that can lead to the 'boat overturned, people died' situations. The poem warns people to be constantly vigilant." Mr.Qiu Ling said that he made this work in 2019. He decided to donate it to the Jimo District Museum to inspire more people and remind future generations to understand the importance of thinking of dangers in times of safety.
"A few days ago, my father went to the Jimo District Museum to see the works of Guo Xiu, governor of Huguang. My mother is a descendant of Guo Xiu, so my father is basically Jimo's son-in-law," Qiu Ling's son Qiu Yong jokingly said. "It was after the visit that he decided to donate the work to the Jimo District Museum. He thought that it had a deep philosophical meaning as well as a sentimental value".
Learn more at the website news.bandao.cn