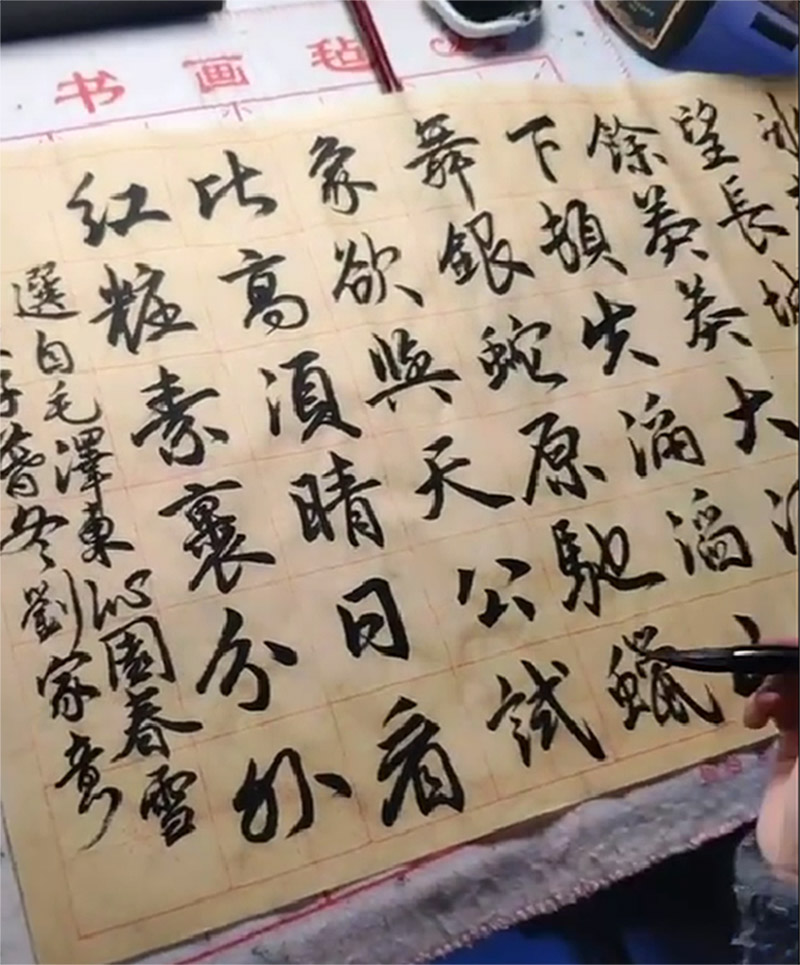 Recently, a video of a little boy from Gongyi City, Zhengzhou, Henan province copying "Qinyuan Spring. Snow" went viral. In the video, the boy calmly and effortlessly, stroke by stroke, writes dynamic and vigorous characters, numerous netizens gave him a thumbs up. On July 14, a reporter from Mengma Xinwen. Dongfang Jinbao contacted the boy's father, Mr.Liu. Mr.Liu shared with the journalist the boy's journey of teaching himself calligraphy.
"My son started practicing calligraphy in the first grade. By the time he graduated from the second grade, his writing has become much less childish. Now very few people would think that this was written by a 10-year-old boy." Mr.Liu said that, at first, he asked his son to practice calligraphy because he didn't want him to lose points in the exam. "At first, I was rather strict, the practice was intense, and he was sometimes defensive. After all, it is a boring process. But then it slowly became a habit, and he adapted." After getting praise from the school teacher and classmates, little Liu Jiayi got motivated.
"I think the poem "Qinyuan Spring. Snow" is very powerful, I like it a lot, so at the beginning of this year I copied the work of Tian Yingzhang, written in Xingkai script." Liu Jiayi told the reporter that since Gongyi is the hometown of the poet Du Fu, he had previously copied some of his poems such as Tree Officials and Three Farewells and he also wanted to copy Ballad of the Army Carts by Du Fu.
Mr.Liu admitted to the reporter that he himself is not great at calligraphy, but your writing is your first impression, so he demanded his children to perfect writing. "We always think of ways to improve children's interest, endurance, and concentration. When I have spare time I join my son, and we practice calligraphy together. I become fully involved in the process, trying to set an example for my son." Other hobbies of Liu Jiayu include learning ancient poems by heart, playing the piano and football. "He also knows a lot about space.  "
"Calligraphy knows no age, and there is no absolute skill. It's hard work, not for lazy people. As in sports, you can't learn it just by listening to someone speaking about it, you need to spend a lot of time practicing." Mr.Luy said that his son's writing might seem outstanding compared to his peers, but the boy still had a long way to go compared to calligraphers. He expressed hope that all these compliments wouldn't make his son arrogant and he would maintain his steady attitude.
Henan Radio and Television Merged Media reporter Chen Kexu/Image, Video, Editing Zhang Ni