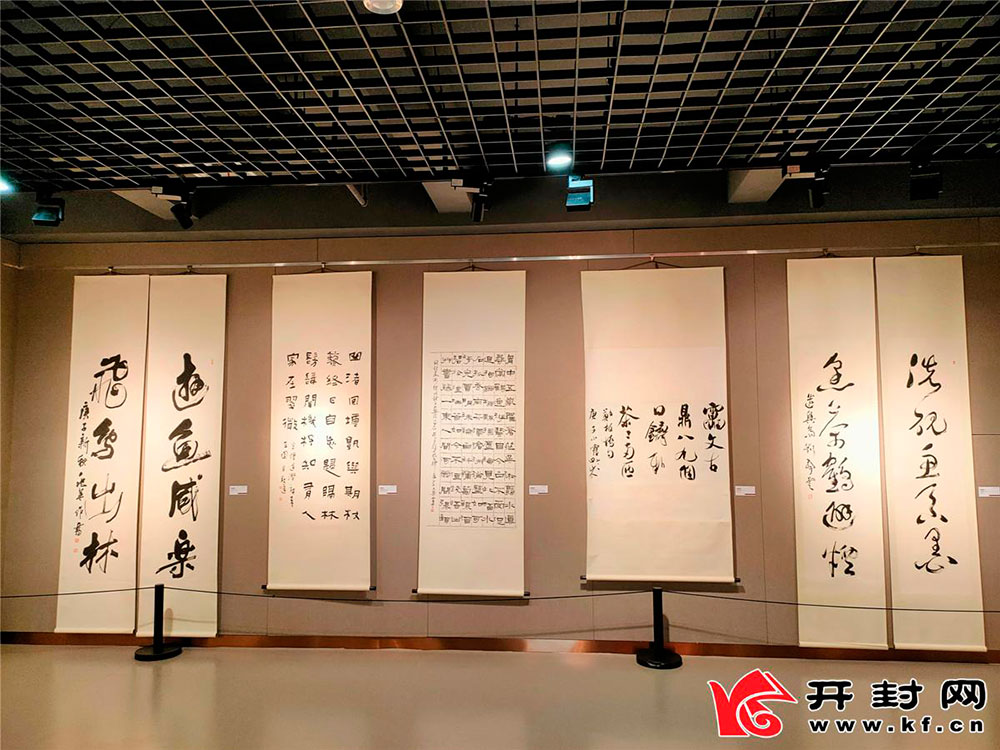 Kaifeng is famous for its calligraphy. There is an old saying among calligraphers that all calligraphers of China look at Henan, all calligraphers of Henan look at Kaifeng.  On February 9, "A Century of Kaifeng Calligraphy" art show opened at the Kaifeng Art Museum. The exhibition displays artworks of Kaifeng calligraphers (members of the Chinese Calligraphers Association), presenting the highest level of modern Kaifeng calligraphy. The exhibition reflects on the Kaifeng calligraphy heritage and showcases the achievements of calligraphy in the city over the past hundred years.
Chinese calligraphy has a long history. Kaifeng City, the center of Chinese calligraphy, preserves the heritage of the inventor of characters Cangjie from the ancient times, calligraphers Cai Yong, Zheng Daozhao, and Sun Guoting from the Middle Ages, as well as famous Su Shi, Huang Tingjian, Mi Fu and Cai Xiang of Song dynasty. Chinese calligraphy developed over hundreds of years, through wind and rain, in an unbroken line. During the Republic of China, the Central Plains calligraphy was especially prominent, giving the calligraphy scene many bright stars such as Ding Kangbao, Zhu Hongyuan, Jin Zhi, Xu Jun, Li Henong, and many others. In the late 20th century a large number of influential calligraphers from the Republic of China including Jin Zhi, Wu Muyao, Chen Yuzhang, Li Baifeng, Zhang Letian, Pang Baihong, Yu Anlan, and Gao Wen, quietly as a spring rain nourished and educated young calligraphers, cultivating many talents among young and middle-aged artists during the early period of the national calligraphy boom. Calligraphy study group of the Daxianguo Temple in 1972, CPPCC calligraphy and painting group of the '50s, Calligraphy research institute of the '70s, Kaifeng always was ahead of the country, and that formed a flourishing environment for calligraphy education and built a foundation for many creative teams and award-winning calligraphers collectives. That's why it is said that all calligraphers of China look at Henan, all calligraphers of Henan look at Kaifeng. All that contributed to the Kaifeng calligraphy renaissance in the '80s and the '90s, earning it a reputation as the City of Chinese Calligraphy.
Kaifeng became famous for its calligraphy, influential old masters, award-winning young and middle-aged calligraphers, famous calligraphers that always lived in Kaifeng, and those who left the hometown of Kaifeng — all played a part in its fame. They all preserve the cultural heritage of the city and contribute to it. Calligraphers of Kaifeng have a deep understanding of the calligraphy traditions, are committed to the best practices, but also are willing to innovate, they have a clear grasp of the forefront of calligraphy, and understand the context of creating modern fonts and styles. They work hard to develop their own artistic language and style.