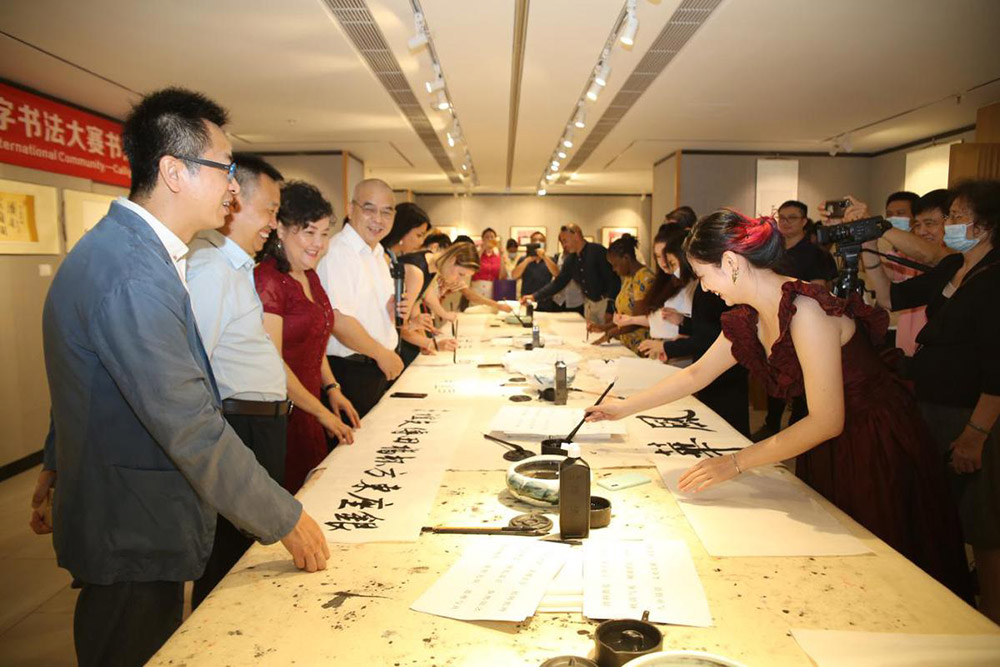 Recently, the opening ceremony of the Fifth Oriental Cup Chinese Calligraphy Contest for the International Community was held in Shenzhen Oriental Art Museum. With the help and participation of various universities, international organizations, and communities, the number of countries represented in the contest has grown from 23 to 54. Many foreign friends have been participating in the contest for several years in a row, submitting a number of works and demonstrating high-level skills.
It is reported that the Oriental Cup Contest aims to continue and enhance the outstanding cultural tradition, promote international exchanges and help the traditional art of Chinese calligraphy spread across the whole world. Zhong Fanfei, the organizer of the contest, Founder and Chairman of the Shenzhen Oriental Art Museum, expressed his desire to remain true to the mission, host a series of calligraphy salons, lectures on culture, and art exhibitions for foreigners, build a more diverse and inclusive cultural platform, and make the contest a new hallmark event for Futian region or even the whole city of Shenzhen, spreading the spirit of transformation, innovation, and creativity.
Huang Xuefeng, Secretary of the Institute of International Communication at Shenzhen University, believes that the Oriental Cup Chinese Calligraphy Contest for International Community shows the cultural splendor as well as the positive and enthusiastic attitude of the international participants. Through the process of the two-way exchange, Chinese and foreign cultures become more abundant and rich. The competition will become a hallmark event for Shenzhen, presenting this beautiful culture to the world.
Liang Yu, Council member of China Artists Association, Vice Chairman for Guangdong Province Artists Association, a member of the party group, and inspector of Shenzhen City Federation of Literary and Art Circles said that the Oriental Cup Contest had been successfully held four times. The contest has shown strong brand appeal and its own unique character. It has effectively built a bridge between the Chinese traditional culture and the world, encouraged international calligraphy enthusiasts currently living in China to form their own community inside the Chinese calligraphy art world, and let the art of calligraphy break away from its original form and gain a wider influence.
On the day of the opening ceremony, a calligraphy salon was held, attended by more than 40 foreign friends. They put up their brushes and wrote with ink on rice paper, displaying their calligraphy skills. They were fully engaged and immersed in an atmosphere of calligraphy. Professional calligraphers were present alongside the participants, offering their guidance and passing on professional knowledge. In an atmosphere of calligraphy culture and lively exchange of calligraphy insights, many foreign friends submitted the works they had created right on the spot and expressed hope that these works would be selected as outstanding.
According to the reports, the contest submission deadline is September 20. After the selection process by the experts of the Organizing Committee is finished, the award ceremony will be held. The shortlisted and winning works will be exhibited at the Shenzhen Oriental Art Museum. (China Daily Shenzhen News Bureau)