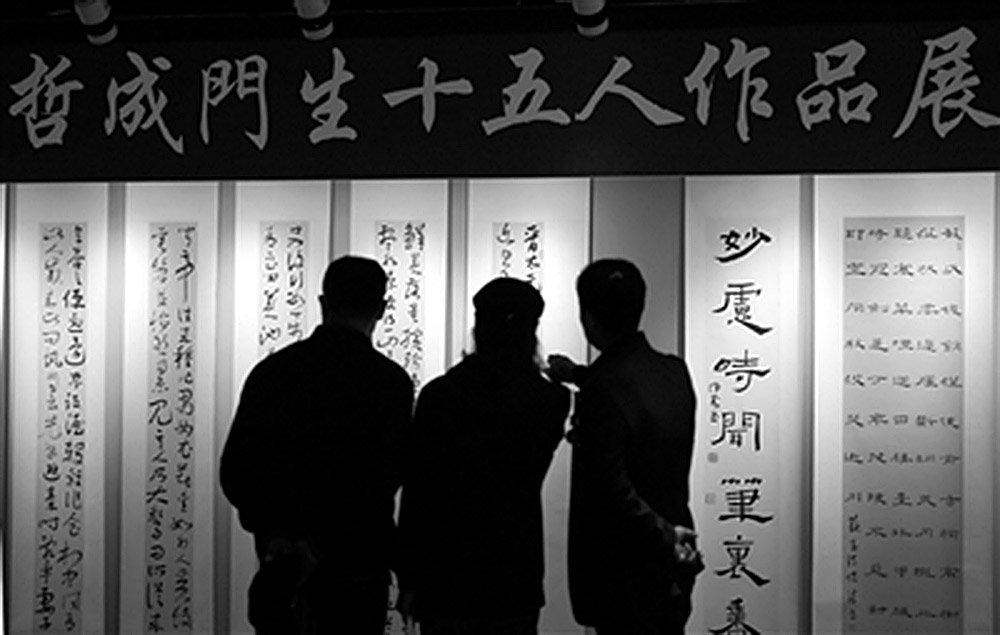 On April 24, the exhibition "Ripples on the Inkstone — Exhibition of the 15 Disciples of Zhecheng" organized by Liaoning Province Calligraphers Association, Shenyang City Calligraphers Association, and Shenyang Daily Art Museum opened at Shenyang Daily Art Museum.
This exhibition is a major event for the calligraphic community of Liaoning. Calligraphers Nie Chengwen and Dong Wen from the Jiuwan group of calligraphers attended the opening ceremony. Famous artists, as well as painting and calligraphy enthusiasts, gathered to enjoy the masterpieces, exchange insights, and add a fresh artistic vibe to the warm and pleasant spring in Shenyang.
The 150 artworks currently on display come from 15 calligraphers, namely Lu Lin, Pei Erjie, Wan Jianguo, Li Xuewei, Yang Hengqi, Zhang Lu, Lu Dong, Zhu Fakai, Zhang Dianzhong, Wei Wenxue, Wang Ning, Song Chi, Ma Yingdi, Zhao Juncheng, and Ma Qingmin. They are the disciples of the famous calligrapher Mr. Yao Zhecheng, influential in many cities, provinces, and the country and quite successful in the art of calligraphy. During the fight against the new coronavirus infection in 2020, Zhecheng's students carefully followed the teacher's instructions, diligently practiced calligraphy, learned to write characters, copied a lot of ancient inscriptions, and created many artworks. This exhibition not only presents the calligraphy of Yao Zhecheng's students to the audience in Shenyang but also highlights the creative abilities of calligraphers in Liaoning and Shenyang, and drives forward the development of calligraphy art in the Liao-Shen region and Northeast China.
Mr.Yao Zhecheng is one of the nine calligraphers from a creative group Jiuwan that emerged in the 1980s, that played an important role in the development of the Shenyang calligraphy. Mr. Yao Zhecheng established and practiced the tradition, in the field of epigraphic calligraphy research he inherited the mantle of a famous Liaoning calligrapher Shen Yanyi and undertook his mission and responsibility. Mr. Yao Zhecheng has many disciples. 15 successful calligraphers working in various styles were selected for this exhibition. The Shenyang Evening News and Shenbao All-media reporter saw that the exhibition covered all calligraphy scripts, such as seal, clerical, regular, running, and cursive. Lu Lin, Vice Chairman of Liaoning Calligraphers Association, Chairman of Shenyang Calligraphers Association, is the "big brother" among the 15 disciples. He told the reporter that in 2020 all students devoted their time to study and practice calligraphy, "Mr.Yao gave us homework and a deadline, and for the good work, he would buy us prizes out of his own pocket. It was like we had traveled back in time to school days." "
Mr.Yao Zhecheng has disciples all across the country, but although they all have the same teacher, he tailored education to each student, never limited studying materials to just one inscription, never forced his views, but instead encouraged students to find their own inspiration among many schools and calligraphers of the traditional Chinese calligraphy, find their own voice. On opening day, Yao Zhecheng was pleased to see the excellent works of his students. He said that learning calligraphy is not only rooted in tradition, it also demands a great deal of faith and perseverance, "I ask students to write at least 50,000 characters a year. Don't waste the golden years. Life is short. If you want to succeed you need to work hard all the time". Yao Zhecheng also said that in order to learn calligraphy, you need to have self-awareness, build a strong foundation, and reject your ego to make progress. That's the only way to reach a certain level in the art.
Hu Chongwei, Chairman of Liaoning Calligraphers Association told the reporter, that this exhibition not only carried on the teacher's tradition and the original intention but also demonstrated a great amount of knowledge and presented various styles, showing the cultural inheritance and responsibility of the calligraphers of Liaoning and Shenyang. "These 15 artists under the flag of Yao Zhecheng carry on the tradition, base themselves on the ancient principles, and innovate, presenting new styles of the Liaoning and Shenyang calligraphy". The Shenyang Evening News and Shenbao All-media reporter Zhang Ning
Chief photojournalist Chang Chenggang