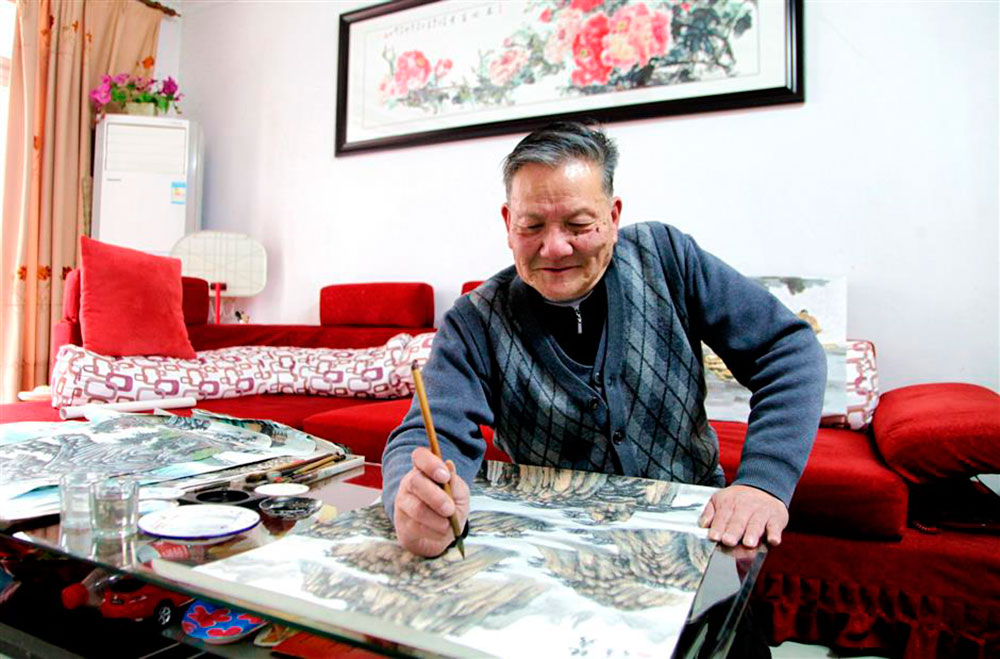 Zhu Baoheng's home in Anting Town is like a small exhibition hall for painting and calligraphy. A large watercolor on the wall depicting flowers is an attraction, while the "Four Treasures of the Study" — brushes, ink, inkstone and rice paper — and tools for carving are placed on a white glass tea table. Books, certificates, trophies and medals are on a bookshelf and under the bed in his bedroom.
People may think Zhu was born and raised in a scholarly family, having received an excellent education. However, this 85-year-old man has been deaf and mute since birth and became paralyzed due to polio when he was a child. He lived with his mother and deaf-mute sister after his father died when he was just 7 years old.
Fortunately, with the help of Zhu Weiren, his grandfather who was a renowned traditional Chinese medicine doctor in Jiading, he became a student of Lu Yanshao, a master of traditional Chinese painting and also a native of Jiading.
Moved by Zhu's tenacious and strong spirit of chasing the dream of becoming an artist despite his disabilities, Lu agreed that Zhu could be his apprentice for his intelligence and talent. Apart from teaching painting techniques face to face, Lu gave him guidance by writing him letters, encouraging him to excel in painting and brush writing, become a man of integrity and never relax his efforts for his entire life.
Painting or calligraphy not only requires lots of practice, but also a large amount of paper and ink which were expensive for Zhu's family.
One day, the idea of using water as ink and the threshing floor as paper popped up in his mind. He used water-dipped branches or little sticks as brushes, practicing writing on the cement, one time for several hours.
Zhu did what Lu had told him and never gave up trying to create a better life for himself.
His paintings with changing lines and wide views proved popular. Some of his work was on display at an exhibition held by Shanghai Federation of Literary and Art Circles in 1954, while his comic strips were published in 1957.
Source: Shine